Just to say a big thanks for helping to make last night a huge success. You were professional and friendly and helped to make all of our guests feel welcomed. We would certainly recommend your services.
We booked Max for a Casino Royale themed event in the summer and were extremely happy with his services. Not only did he look the part, he was also a pleasure to deal with and extremely professional. I would not hesitate in recommending him to anyone holding any Bond-themed event.
The Plasmor Team would like to thank you heartily for your considerable efforts. You managed to execute the "plan" brilliantly – and I do love it when a plan comes together! Indeed the icing on the cake was the best stand award. We all enjoyed working with you and acknowledge your professionalism, hard work and patience; MISSION ACCOMPLISHED'
Max was the perfect addition to our James Bond themed event. He had the Daniel Craig looks, the charm and even the gun – the best lookalike I've ever seen!
Max made Graham's dream come true – his one wish was to have James Bond at his party and Max made that possible. Max was totally committed to giving a great experience to Graham and was reliable and flexible around arrangements for his 50th birthday party. The party went with a bang and the memories and experience that his visit provided are priceless – the smile on Graham's face whenever he recalls it is wonderful – thank you Max!
I really enjoyed it. Max was a very nice person – he was friendly and asked lots of questions about my interest in James Bond. I showed him my car collection and all my pictures and we talked lots about everything to do with James Bond. He was just like Daniel Craig and everyone at the party enjoyed seeing him. I got some great photos. Having him there made my party extra special and it would be nice to see him again
I found Daniel Craig Look Alike via searching the internet and at that time remained cautious in making a booking via email which if did not work out would absolutely destroy a main feature of our party. All I can say is Daniel Craig Look Alike is a true professional, he communicated well and delivered on his promise and I would not have any hesitation in recommending him to anyone.
A BIG THANK YOU for such a wonderful night. Everybody said how great you were.
Max played a blinder and everything went so well it was untrue." "It was an absolutely amazing night. You were absolutely excellent on every level. A true professional in every way. Thanks for making the long trip to 'Geordieland' to make Helen's night a truly memorable one.
Thank you Max for such a wonderful performance
A fantastic professional. Thank you for taking up your own time to compose a video for my comedy stand up. We will never forget your generosity. You have helped us tremendously. Thank you so much for your help and assistance and good luck for the future
Splendid job Mr Bond, a very professional performance and so convincing. Thank you for taking time to mingle with guests and pose for photo's after the party. Thank you so much for a wonderful evening.'Kind regards.
Ratchada Thai Restaurant, 129 Lee Rd, Blackheath SE3 9DS. www.ratchada.co.uk
thank you for the great job you did, I could not have done better myself…., except for the part with the "Bond Girls"…..haha
The event was professional and our client has commented that it was the best they got in 12 years… !! So good for us .
Max, you could be the next Bond. Look out Daniel Craig! As soon as you walked over to us you were 007, everyone commented on the remarkable likeness. Thank you for posing for all of the photo opportunities. Everyone wanted a photo with you. Thanks to you the evening was a spectacular success.' Best wishes,
Max, you could be the next James he closest to the real thing I've seen so fa
''The closest to the real thing I've seen so far. You really look great James..I mean Max; the spitting image of Daniel Craig.
I saw you at an event previously and thought you looked great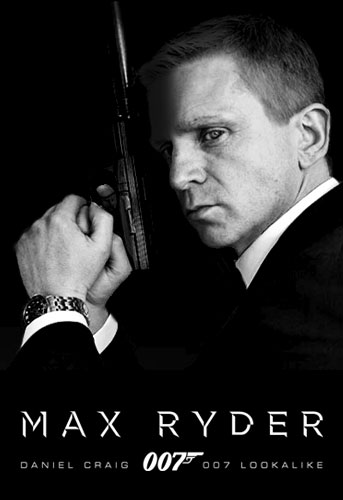 Write a Testimonial for Max